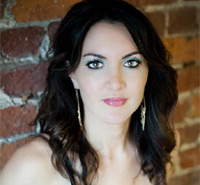 The Owner
Emily is a master hair stylist, master colorist, makeup artist, entrepreneur and artist. Her career spans over 15 years, where she began her career working in downtown Halifax and spent several years working there.
She has a passion for making people look and feel their best. She is a well-travelled hairstylist, who incorporates international fashion into hair design. Emily is a true believer in being a lifelong learner and being current in today's ever-changing hair & fashion industry.
"Life is not about finding yourself. It is about creating yourself" -unknown … In a nutshell, this is Emily's philosophy for STUDIO 54 SALON.
Meet Our Hair Stylists
Metro's Top Hair Stylists Here At Studio 54 Salon
Master Hairstylist & Colourist

Master Hairstylist & Barber

Master Esthetician, Lash Technician

Gel Nail Technician

Gel Nail Technician

"At Studio 54 Salon all of our girls work independently and book their appointments. Feel free to text or call them individually to book an appointment, or call the salon landline and we will be happy to assist you in booking your appointments."
Emily Corra-master Hairstylist, Colorist, Hair extension expert, Owner